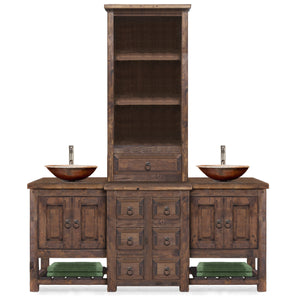 Elijah Reclaimed Wood Bathroom Vanity with Tower
HappyFrog Decor
Regular price $2,050.99 $1,805.99 Sale
Captivate your bathroom space with our bold and rustic reclaimed wood bathroom vanity!

Our reclaimed wood vanities are beautiful pieces of art!

We will custom-build this cabinet for you according to your needs! Have us make it from new wood if preferred.


Available in two different standard sizes (length).

Pair it with a reclaimed wood mirror for an even more beautiful look.
A Ravishing Reclaimed Wood Bathroom Vanity

 Featuring a handsome three shelf tower with a single drawer, six center drawers, double doors on each side, and slates underneath for extra storage. This is the perfect vanity to give a large family a comfortable feel.The bathroom vanity is handmade by our expert artisans in reclaimed wood. A piece that is hand-cut and assembled by the human hand is truly a piece of art that will last for generations! Having this wood bathroom vanity built in reclaimed wood will not only help save our environment but preserve a sense of history.
Become a proud owner of a piece of reclaimed furniture that is absolutely unique!
Product Details
Available Standard Sizes: 60", 72"

Material: Reclaimed solid pine wood. 
Drawers: 7 functional drawers.

Doors:

4 doors.

Assembly Required?: No
Hardware: Round ring pulls. Can be build without any pulls if requested.
Drawer Rails: Full metal extensions. Soft-close extensions sell for $20 for each drawer.
Back of Vanity: Build with a thin sheet of plywood for easy removal or hole cut-outs for plumbing purposes.
Vanity Top: Solid wood top protected with polyurethane. Vanity can be purchased without a top.
Side of Vanity: Raised panel design.
Sink Cut-Outs: We do not do them. Sink installation and hole cut-outs are best done on site to ensure proper placement & alignment.
Length: 72"
Width: 20"
Height: 32"
Finish: Available in medium wax and gray white wash.

Faucet & sinks NOT included!

Free shipping
SKU: A0063