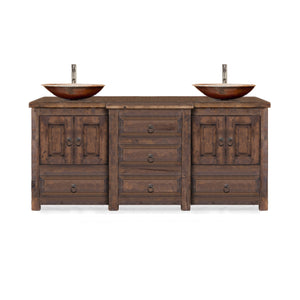 Juliette Reclaimed Wood Bathroom Vanity
HappyFrog Decor
Regular price $1,505.99 Sale
Transform your bathroom space into a cheerful and incredibly versatile fresh rustic feel with this gorgeous reclaimed wood bathroom vanity!

Our reclaimed wood vanities are beautiful pieces of art!

We will custom-build this cabinet for you according to your needs! Have us make it from new wood if preferred.


Available in two different standard sizes (length).

Pair it with a reclaimed wood mirror for an even more beautiful look.
A Stupendous Reclaimed Wood Bathroom Vanity

 Features a column of three stacked protruding drawers, two doors on each side, and one fully functional drawer at the bottom of each side.The Juliette bathroom vanity is handmade by our expert artisans in reclaimed wood. A piece that is hand-cut and assembled by the human hand is truly a piece of art that will last for generations! Having this wood bathroom vanity built in reclaimed wood will not only help save our environment but preserve a sense of history.
Become a proud owner of a piece of reclaimed furniture that is absolutely unique!
Product Details
Available Standard Size: 60", 72"
Material: Reclaimed solid pine wood. 
Drawers: 5 functional drawers.

Doors:

4 doors.

Assembly Required?: No
Hardware: Round ring pulls. Can be build without any pulls if requested.
Drawer Rails: Full metal extensions. Soft-close extensions sell for $20 for each drawer.
Back of Vanity: Build with a thin sheet of plywood for easy removal or hole cut-outs for plumbing purposes.
Vanity Top: Solid wood top protected with polyurethane. Vanity can be purchased without a top.
Side of Vanity: Raised panel design.
Sink Cut-Outs: We do not do them. Sink installation and hole cut-outs are best done on site to ensure proper placement & alignment.
Length: 72"
Width: 20"
Height: 32"
Finish: Available in medium wax and gray white wash.

Faucet & sinks NOT included!

Free shipping
SKU: A0052